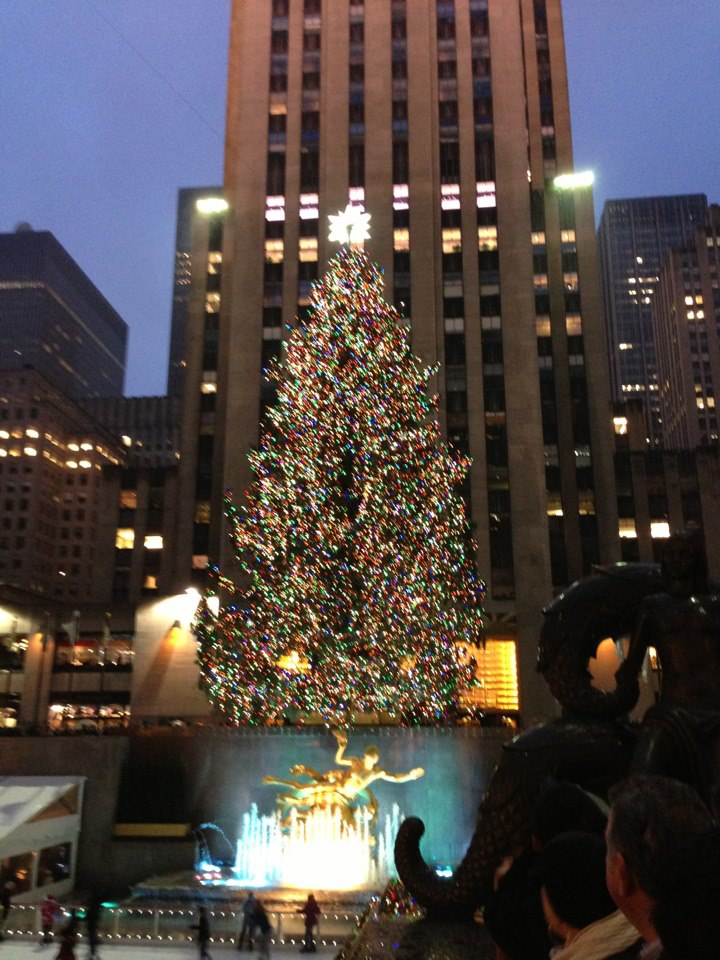 Christmas in New York City is like nothing else. I naturally wanted to share this experience with my family, as I do in so many of my travels. It's like I always say, "friends come and go but family is forever". This particular trip I got to take my son, eldest daughter, as well as my son in law. We all flew first class which was a complete shock to my family, but I wanted to upgrade to show them what it was like. As they sat in their spacious first class seats receiving alcoholic beverages and snacks they had no idea what to anticipate this trip. Also when I said spacious first class seating I really just meant you have a few more inches for your legs.
We arrived to NYC no delays, headed to the hotel to get dressed. Didn't take long then we were off to Times Square where we went to see the always fun "Mama Mia". It was a blast despite the exhaustion from the days travels.  We also got to grab a bite to eat at a wonderful Irish pub called O'Donoghue's. I'm always pleasantly surprised by all the variety of restaurants you can eat at in NYC.   You have Irish pubs, authentic italian, and then your classic upscale American restaurants.  Which this trip we tried a wide variety of memorable meals. The next day we explored doing the "NYC classics", walking through the always famous at Christmas Macy's. Which was as per usual the equivalent of sardines packed into a can. At least we got to get some awesome shoes that you definitely could not find in our hometown. We also went to the site of the twin towers which was interesting to see for the first time. I'd have to say my favorite part of the trip was my daughter insisting we go to Chinatown which in movies always appeared unique and fun etc. Well, I tried to explain to her it is much different than depicted in the movies, she refused to listen. What did we end up doing? Going to chinatown which we took a cab after getting lost on several subway rides. We finally arrived and as the taxi drives away she says this is scary, it just looks like a giant flea market. We laughed hysterically as we tried to tell her. Then we could not find a cab so we had to start walking and while walking we go to enjoy turning down many handbags, watches, and scarves. Then suddenly we saw a cab coming we were thrilled hopped in and said take us to our hotel. We didn't even care it ended up being over 100.00$ cab fair. 
That night we all went out to one of my favorite activities the musical! Phantom of the Opera was on the nights agenda, which I could not wait to see. The concierge told us we had the best seats, but I'm thinking the concierge must have never been to a musical because our seats were terrible.  Definitely had one of those moments where you say to yourself I know better than to trust the concierge, "slaps self in back of head". However the performance was amazing despite the awful seats. Dinner after the musical was even better, I had one of the best steaks. We all talked, drank wine, and ate delicious dessert, it was a perfect relaxing evening to a go go go trip.